Weddings are very special affairs in Pakistan. The celebrations that a wedding entails span over a week or so with many customs and traditions that are honored. They originally start with a mayon, followed by the vibrancy of a mehendi function, the baraat and finally, the valima. With so many events, it is imperative that the bride and groom dress accordingly because everything, from their attire to their accessories is an extension of the celebration of their union. Pakistan is lucky to host one of the most coveted after and talented bridal dress designers. Carefully crafted Pakistani bridal dresses are a sight to behold and are a symbol of the bride's grandeur. The following list includes the top Pakistani wedding dress designers that the country has to offer:
Elan
Starting in 2006, Elan headed by Khadijah Shah has made waves in multiple genres of clothing in Pakistan. Initially, it was introduced as a brand that offered stitched and unstitched lawn pieces. Today, Elan proudly boasts its bridal collection. Having dressed celebrities across the border like Alia Bhatt and being featured in international magazines, Elan's journey is a progressive one. Their bridal dresses featured in their latest campaigns called Khroma and La Mariee Royale consist of delicate embroidery and effeminate colors that are a perfect complement for formal wear.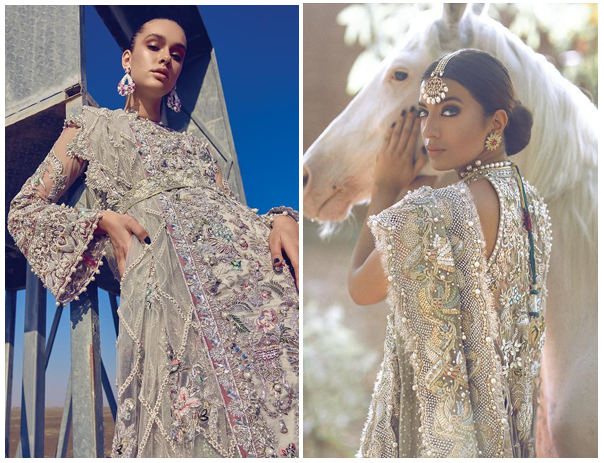 ---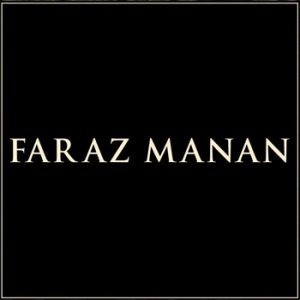 Faraz Manan
Faraz Manan has carved out his own niche in the fashion industry over the course of 18 years. His success has earned him flagship stores in Dubai and accolades like the Designer of the Year Award at the Hum Style Awards of 2016. Bridal dresses designed by him carry a hint of the Avant Garde concept with detailed intricate needlework and an assortment of colors. He features a spectrum of peaches, pinks, pastel blues paired with silver and gold glittering embroidery in his latest bridal dress couture. Unlike other Pakistani wedding dress designers, Faraz Manan does not shy away from designing white bridal dresses. Adorned with white beaded embellishments, these designs are a sight to behold.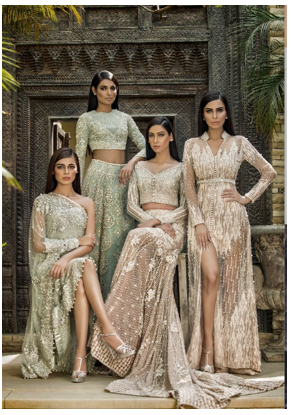 ---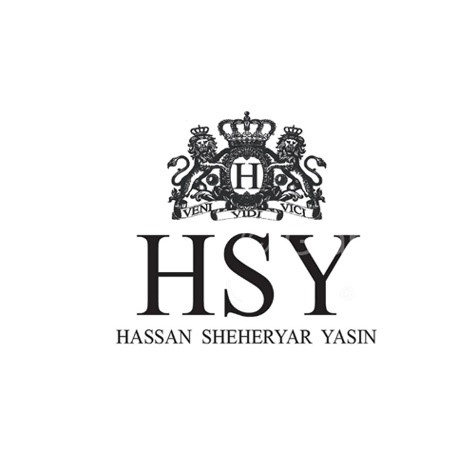 HSY
The name HSY is synonymous with bridal dresses and bridal couture in Pakistan. With over 25 years in the industry, HSY is a veteran in bridal couture with dresses that embody the traditionalist spirit of weddings. A quintessential red ensemble is his brands signature. His work features craftmanship from locals who breath the spirit and lineage of history in the needlework and embroidery of these dresses. Marrakesh and Tangier are just some lehengas from his latest collection which feature gold and organza over a background of striking red-the perfect attire for a desi bride.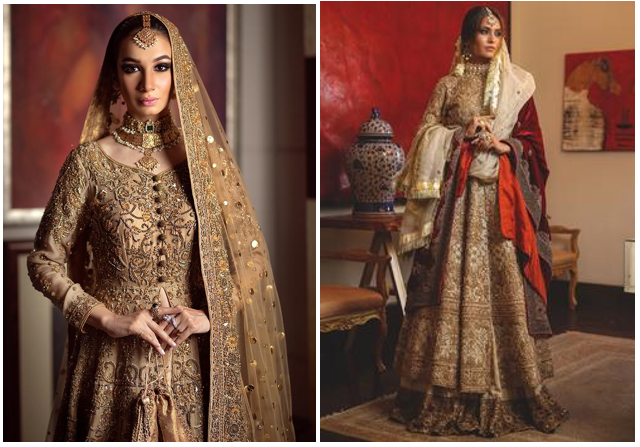 ---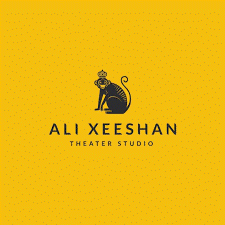 Ali Xeeshan
A bridal dress designer that outrightly questions trends and is adamant to set his own is a rarity in Pakistan. However, Ali Xeeshan is a perfect example of the larger than life thinking and he successfully translates such an extravagant vision in his designs. His debut collection took the world by storm and his dramatic flair has continued to flourish since. Xeeshan takes Western influences and gives them a Punjabi touch to formulate bridal dresses that are a fusion of Western and Eastern styles. He utilizes various fabrics such as velvet in his collection called "Makhmal" and his eccentric brand has had multiple collaborations such as a collaboration with Chashni. Xeeshan's latest collection "Phool Nagar" showcases unique color combinations such as teal and cream as well as floral inspired beadwork.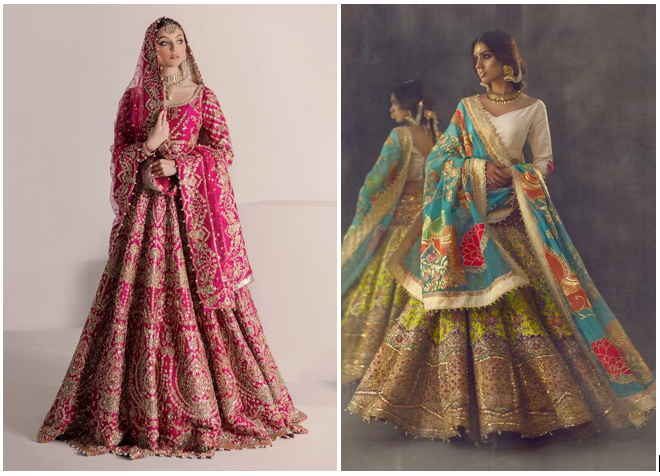 ---

Jeem
Jeem is an aspiring brand in the Pakistani fashion industry. Their bridal dresses pay an ode to desi heritage with classic prints, a rich brocade of fabrics. Gold accents and delicate embroidery is perfect for the wedding season in Pakistan. From bold colors like hot pink to muted pastels, Jeem has it all.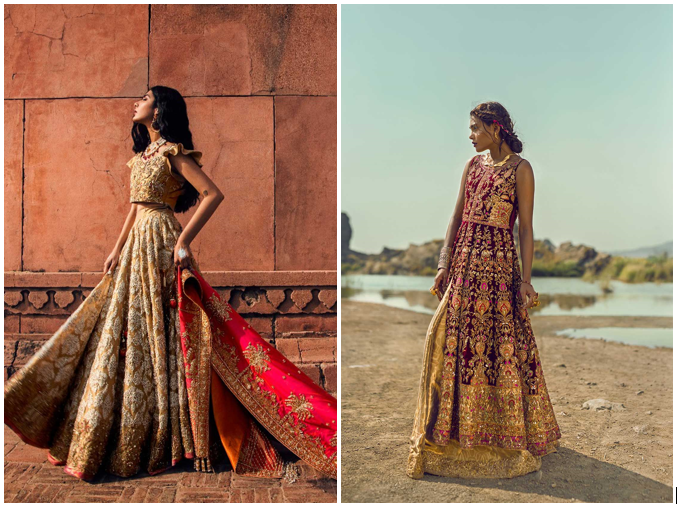 ---

Deepak Perwani
Whilst some Pakistani bridal dress designers are huge advocates of pomp and show, Deepak Perwani has pioneered in his unique niche. Minimalism is his forte and the brand thrives on this aspect. Perwani is a very talented bride and groom dress designer and has a Guinness world record under his belt for the world's largest kurta. He pairs soft colors like off white and peach with white and silver embellishments. Perwani's brand is versatile despite his minimalist approach because even when he uses bright colors, he pairs them with cream and white to tone them down for an effortless ensemble as seen in his latest collection "Shalimar."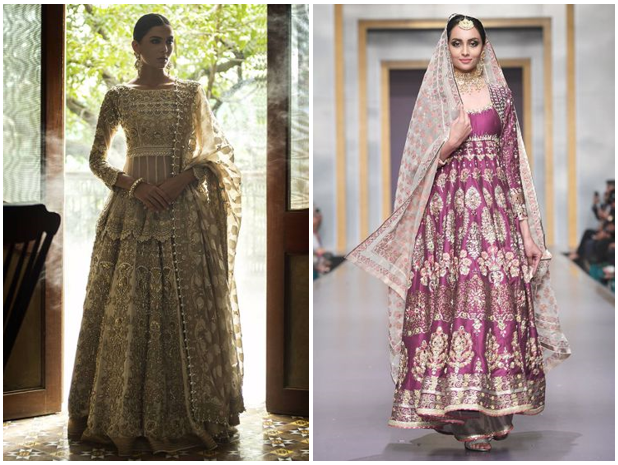 ---

Nomi Ansari
Nomi Ansari is a well-known name in the world of glitz and glamour, especially for his bridal dresses. His designs are the epitome of class, elegance and luxury. With international stores in USA, UK, Dubai, Canada and Singapore, it is safe to say that this designer is on his way to world domination. Ansari's work features different shades of red, multicolored embroidery and exquisite prints that are not only esthetically pleasing but are works of art in themselves.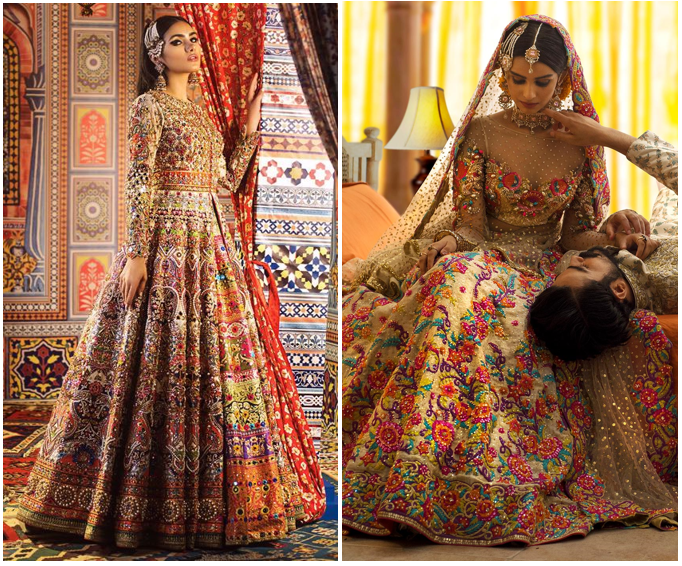 ---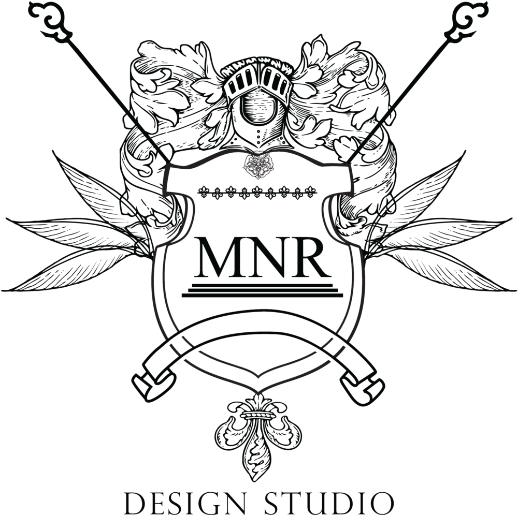 Mohsin Naveed Ranjha
Mohsin Naveed Ranjha was quickly catapulted to success because of his regal designs and inventiveness. He started in Gujranwala and ended up inaugurating his flagship store in the heart of MM Alam, Lahore, soon after. His latest collection called "Capri Cinema" consists of glossy tea pink peplums, maroon velvet jackets and lehengas in striking colors that will make you the belle of the ball. This bridal dress designer's work has elements of vintage fashion and he makes customized wedding attire as well.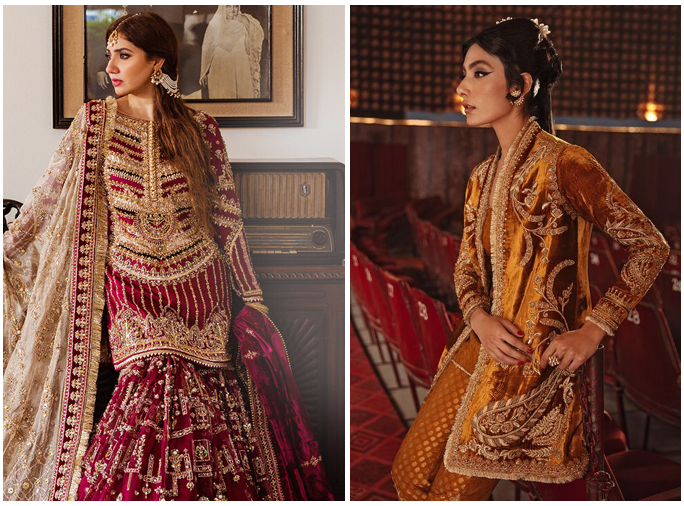 ---

Farah Talib Aziz
Farah Talib Aziz captures the essence of Pakistani bridal fashion and weddings in her designs. Her bridal dresses are rich in color varying from emerald green to dark colors, elevated by glimmering beads and gold sparkles. Having featured celebrities like Syra Yousaf in her campaigns, this bridal dress designer is Sharmila Faruqui's choice too!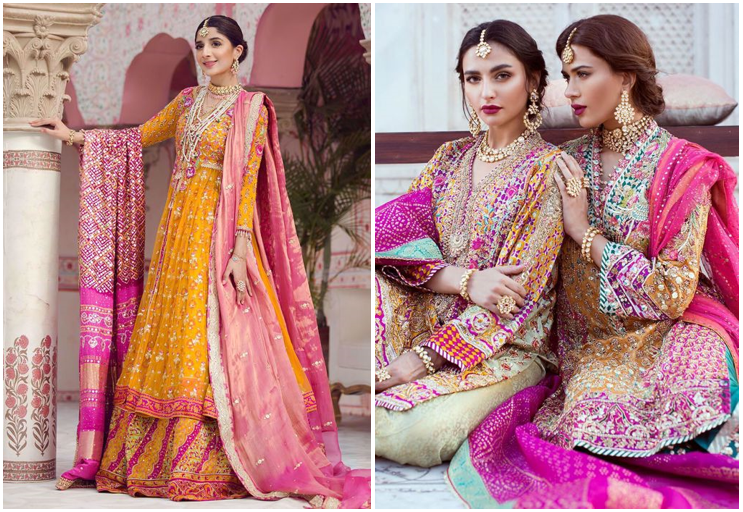 ---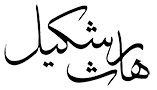 Haris Shakeel
Haris Shakeel derives his inspiration from the Mughal era, with anarkalis and churidars that predominate his designs. This bridal dress designer features lush colors, intricate gold beadwork, gota designs and cuts that are custom made and flattering. Based in Karachi, Shakeel is quickly flourishing on the basis of his sophisticated designs.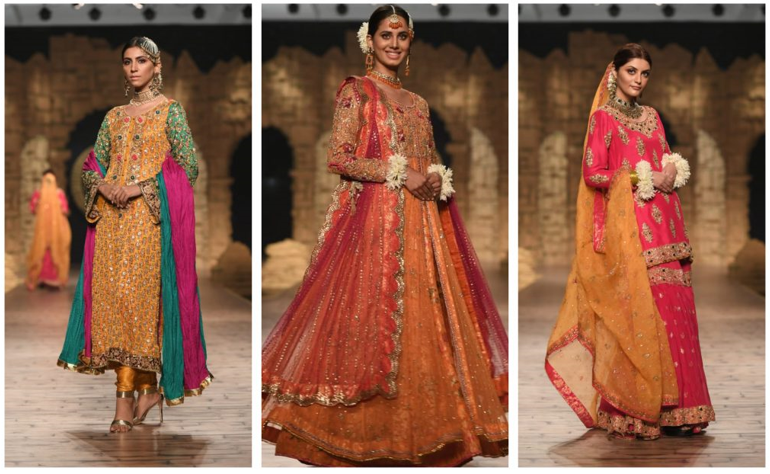 ---

Hussain Rehar
Even though Hussain Rehar is an emerging designer in the world of Pakistan wedding dresses, he was quick to make a mark in it. He has already been nominated for Lux Style Awards and Hum Style Awards and is gearing towards more success. His designs are unorthodox yet impactful in their own way as seen in his most recent collection titled "Nizam Begum." Rehar experiments with adventurous colors like cyan, bubblegum pink, orange rust and mustard to showcase his finesse in his bridal dresses.